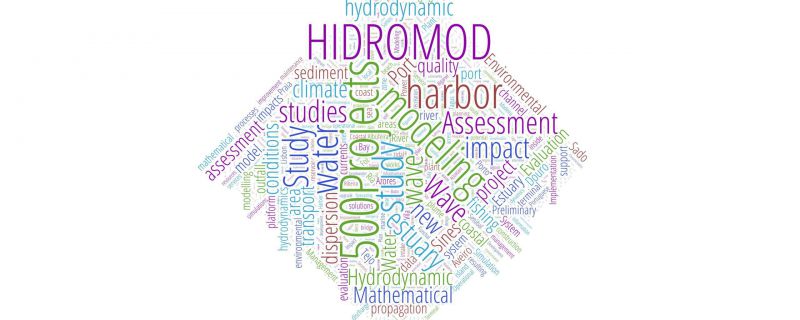 .
We have reached and surpassed numerous business milestones over the years, but we are very proud of this one: in August 2020, HIDROMOD registered its 500th project.
When we started HIDROMOD in 1992, the technology landscape was vastly different. Back then, numerical modelling was still mostly a university or large laboratories business. Internet was in its childhood. We got our first email address for the company only in 1995! It is fair to say that much of the technology we now take for granted either didn't exist or was still being envisioned. The services we provided to our first clients were done in a context quite different from the current one.
Among our first projects (1992 to 1995), we studied the protection works of Douro river bar, the recreational harbor of Sines, the dredging works and containers and ro-ro terminals of AutoEuropa in the Sado Estuary, several ports in the Azores, the impact of the new frontline of Expo 98 and the Vasco da Gama bridge in the Tagus estuary, and much more. In these studies, we did numerical modelling of hydrodynamics, sediment transport, wave propagation, effluent dispersal and we were improving the MOHID modelling system during each and every assignment. We learned a lot! Like MOHID, Information Technologies and our services have evolved.
Today, we assist clients with a host of numerical models, we are more than ever committed to sound consultancy on hydrodynamics, transport processes, wave propagation, water quality, river basins, etc. We developed AQUASAFE to take numerical modelling seamlessly to clients and we are providing services every day to ports, aquacultures, energy and water utilities. We are also committed to innovation, currently having more than 10 projects funded by H2020, EASME, INTERREG, Fundo Azul, ESA.
Our belief has always been that by exceeding our client's expectations on every project, we would get repeat business from those clients. This approach has worked well for us, and it remains our approach to client retention, and business growth. We reached the 500 project milestone but this is also an achievement of our clients who have entrusted us with the consultation and technology support for their projects and businesses.
Our plan is to continue sustained and steady company growth on the path to 1000 projects. We will continue to secure new projects from our existing clients, and from new clients who may have learned of HIDROMOD from a previous project, or from a referral by someone who trusts HIDROMOD.
If your company has never worked with HIDROMOD, we look forward to the opportunity to do so as we grow. And if your company is already a HIDROMOD customer, please know that we appreciate your confidence in our ability to provide an excellent service.
Thank you!
Relacionado